The Brotherhood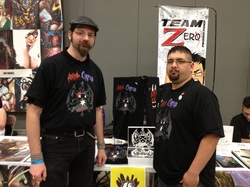 The Brotherhood is a story that was started eight years ago by Hector Gutierrez. Growing up in Corpus Christi, Texas with co-writer Scott Harrington, Hector moved to Austin, Texas where in 2011 he with the help of Scott decided to finish his story. Together, in October of 2012, they released
THE BROTHERHOOD - The first part of a three book series Anima Corpus.
The Brotherhood is a story of 3 friends that live a casual life til a being of immense power came into existence.
Only having two choices in life now, live in hiding and fear til this bringer of destruction finds them or stand and fight for the fate of the world. After taking their family to safety, the three friends decide that it's time to fight. While rummaging through the ruins of what was once their home towns, looking for weapons, three celestial beings visit the friends and bestows upon them the power to defeat this evil in the form of three crystals. The crystals give our friends knowledge, and power to become more than any mortal man would ever dream, but like any power it will come with a price.
---