Check out David's Single - The Otherside

David Martinez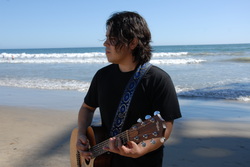 David Martinez, singer/songwriter, born and bred in Corpus Christi, Texas, will release his independent debut record this Summer. Music started at a young age for David, who was influenced by his father, a multi-instrumentalist. Influences at 4 years old, included Grand Funk Railroad, Kiss, Steve Miller Band, Led Zeppelin, and countless others.

At 15 years old, David's father purchased his first guitar and David immediately started learning chords and how to play to the likes of Zeppelin and Hendrix. Dave hooked up with friends from school and immediately started to song write. This is where a foundation was built and now results are starting to be seen.

In the summer of 2006, David hit the road with Jimmy Willden and Hope Cassity and toured the Western and Northern part of the US. This was an experience that was priceless and led to a meeting with one of David's main influences, Leroy. Leroy came out with his debut album in 2000 and was one of the few signed to Hollywood Records. Before that, Leroy fronted a band called HOG, which was part of the Geffen family.

After the tour ended, David returned and began working on songs he wanted to record and asked Leroy if he would produce. To his surprise, Leroy was ecstatic and excited to be working with someone he could mentor and take to the next level. Leroy has worked with the likes of Bob Cavallo Sr., Jack Joseph Puig, John Mayer, Steve Jordan, and Pino Palladino. In March of 2007, David flew to Los Angeles and recorded two songs at Leroy's Place in Hollywood, CA. One of the songs was "Can't Find You", which served as the catalyst to work on a record with Leroy and his great musician friends.

At the end of May, David jumped in his car, drove from Corpus Christi, Texas to Los Angeles, California, and made it in time to start recording June 1st. Leroy enlisted drummer Kane McGee of The Northstar Session, Cha Chi who is a percussionist in the L.A area, Adam MacDougall, keyboardist, who is a current member of The Black Crowe's and has played with Leroy, Nikka Costa, Macy Gray, and The Jayhawks. This was an experience beyond belief and Leroy pushed David to the limit and summoned the untapped talent within himself. Leroy also played lead guitar, percussion, slide guitar, mandolin, harmonica, backing vocals, and acoustic guitar.

David's family and friends, which include his mother, three brothers, niece, nephew and countless other friends and family are a major influence in David's life which reflect his body of work. The love and devotion of all these people make it possible for David to be in the position he is in. Without them, he would be nothing.
---